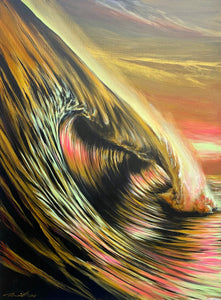 "Fantastic Exaggeration" Original Painting
Fantastic Exaggeration, November 2021, 36"x 48" metallic pigment and acrylic on canvas mounted mahogany panel.
* This is the first time I've created works specifically to release on my website, This is a powerful piece that you have to see in person to truly feel it. It will bring a lively energy to any room or home.
This is my way of paying tribute to winter and it's constant influence on my life over the last 35 or so years. This, the first of two ocean scenics have an exaggerated perspective that mirrors the way I see waves at this point in my pursuit of becoming a competent surfer and attempting to do that on the north shore of Oahu. 
*please note shipping fees will be taken care of separately.
I use Fedex which runs approx $100-150 in the lower 48 and $200 and up for AK. International options will be determined and agreed on before shipping as well.