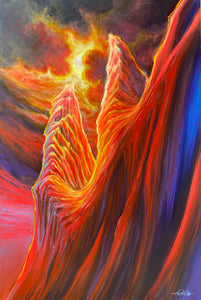 A peak in the Ko'olau-poko range, Oahu - Original Painting
"A peak in the Ko'olau-poko range", Oahu - January 2022, 32"x 48" Acrylic on canvas mounted mahogany panel.
* This is the first time I've created works specifically to release on my website, This is a powerful piece that you have to see in person to truly feel it. It will bring a lively energy to any room or home.
My First painting of 2022 This is my way of paying tribute to winter and it's constant influence on my life over the last 35 or so years. As I live my life on this rock in the middle of the ocean, I find myself daydreaming about all the snowboarding I did in my previous life and how I miss the shredding, the subculture and the family that the mountains gave me. Lately I've been mind shredding all the super green peaks on Oahu wondering what a new ice age would look like and this is the result of that thought process. A detail still life of the a peak in the mountain range that ends here on the North Shore.
*please note shipping fees will be taken care of separately.

I use Fedex which runs approx $100-150 in the lower 48 and $200 and up for AK. International options will be determined and agreed on before shipping as well.