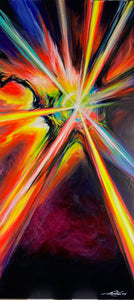 "Particle Smash, (Light Texture)" Original Painting
"Particle Smash (Light Texture)", 2021, 22.5"x 48", Acrylic on canvas wrapped panel.
Painted in Pupukea, Oahu in spring/summer of 2021 for my annual Mervin MFG graphic contract. 
I've always liked the idea of painting my simple vision of light being born out in the cosmos or even at CERN would look like, so this is a humble attempt at just that.